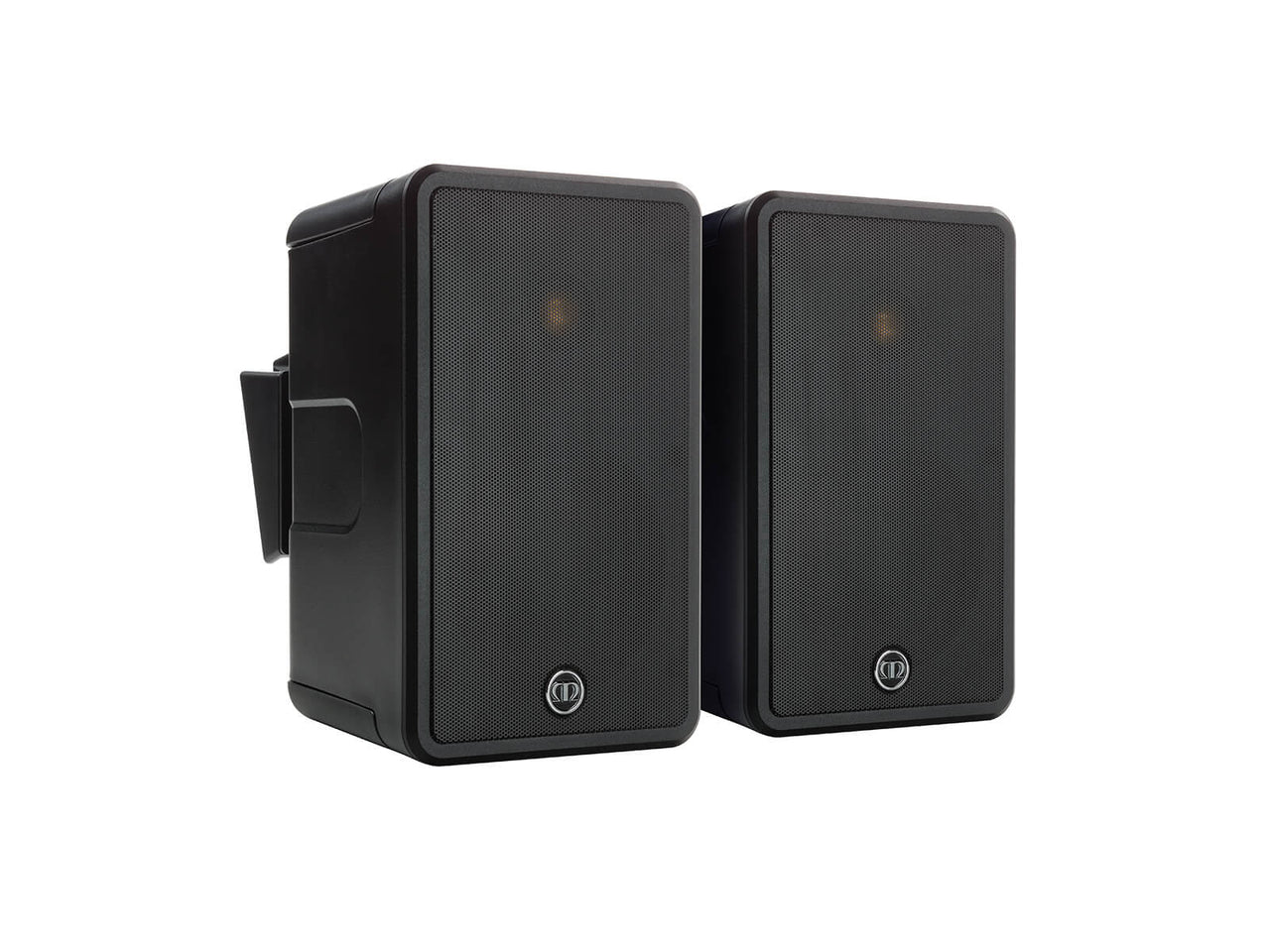 Climate 60 On Demo Now!
With the advent of the versatile Climate range, no environment is beyond the reach of great sound, whatever the weather! This range is certified to be resistant to UV, corrosion and water. Wall mounted in any combination, it provides a wide and even dispersion of full range sound over large areas. Low frequencies are augmented from an Auxiliary Bass Radiator (ABR) in each cabinet. Paintable textured white or black finishes with weatherproof aluminum grilles. Operating temperature range: -13º to 149º F / -25º to 65º C.

Prices reflect a pair of speakers except for the Climate 60-T2 which a single speaker with stereo tweeters. Shipping is included in the price.
Click to view a PDF of the specs and installation guide.
Model

Climate 50

Climate 60

Climate 60-T2

Climate 80
Sensitivity (1W @ 1m)
87dB
88dB

88dB
89.5dB
Overall Dimensions With Grille (H x W x D)


11 1/4" x 6 13/16" x 6 5/16" (285mm x 172.5mm x 160mm)
Overall Depth with Bracket: 8 5/16" (210.4mm)


12 13/16" x 7 5/16" x 7 2/16" (325mm x 185mm x 180mm)
Overall Depth with Bracket: 9 5/16" (235.4mm)


12 13/16" x 7 5/16" x 7 2/16" (325mm x 185mm x 180mm)
  Overall Depth with Bracket: 9 5/16" (235.4mm)

15 15/16" x 9 1/16" x 8 12/16" (405mm x 230mm x 221.5mm)

Overall Depth with Bracket: 10 3/4" (273mm)


Power Handling (RMS)
80W
100W
2x 50W

120W
Impedance
8 Ohms
8 Ohms
8 + 8 Ohms
8 Ohms
Driver Size and Technology

5 1/2" C-CAM Driver

1" C-CAM Gold Dome Tweeter
Rear Mounted ABR (Auxiliary Bass Radiator)

6 1/2" C-CAM Driver

1" C-CAM Gold Dome Tweeter
Rear Mounted ABR (Auxiliary Bass Radiator)

6 1/2" C-CAM Driver

2x 1" C-CAM Gold Dome Tweeters
T2: Stereo with Double Tweeter
Rear Mounted ABR (Auxiliary Bass Radiator)

8" C-CAM Driver

1" C-CAM Gold Dome Tweeter
Rear Mounted ABR (Auxiliary Bass Radiator)

IP Ratings

IP55

IP55
IP55
IP55
Sold As
Pair
Pair
Each
Pair