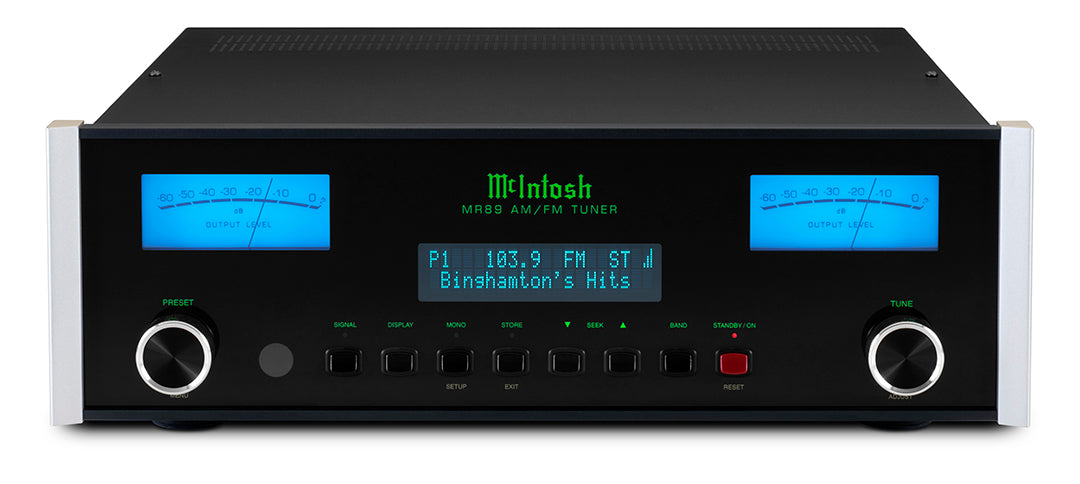 McIntosh has a long and distinguished history with radio and tuners. The MR89 AM/FM Tuner carries on with this tradition of tuner excellence.
The MR89 features exclusive McIntosh radio frequency (RF) circuitry that is capable of receiving both strong FM signals from nearby stations while also being able to tune in weaker FM signals located further away with little to no noise. The MR89's advanced signal quality monitor can display detailed signal, multi-path, and noise levels of the incoming RF signals to help fine tune optimal placement of your AM or FM antenna. 
It comes with our RAA2 AM antenna that features a 20-foot (6m) long cable that provides flexibility in placing the antenna for the best possible radio signal reception. A pair of balanced and unbalanced analog outputs along with one each of digital coax and optical outputs are included to connect the MR89 to your home audio system.

The black glass front panel, meters, knobs, and brushed aluminum end caps are all housed in a stainless-steel chassis polished to a luxurious mirror finish that imparts the timeless McIntosh look.
Please contact us for more information.