McIntosh MHT300 7.2 Home Theatre Receiver
McIntosh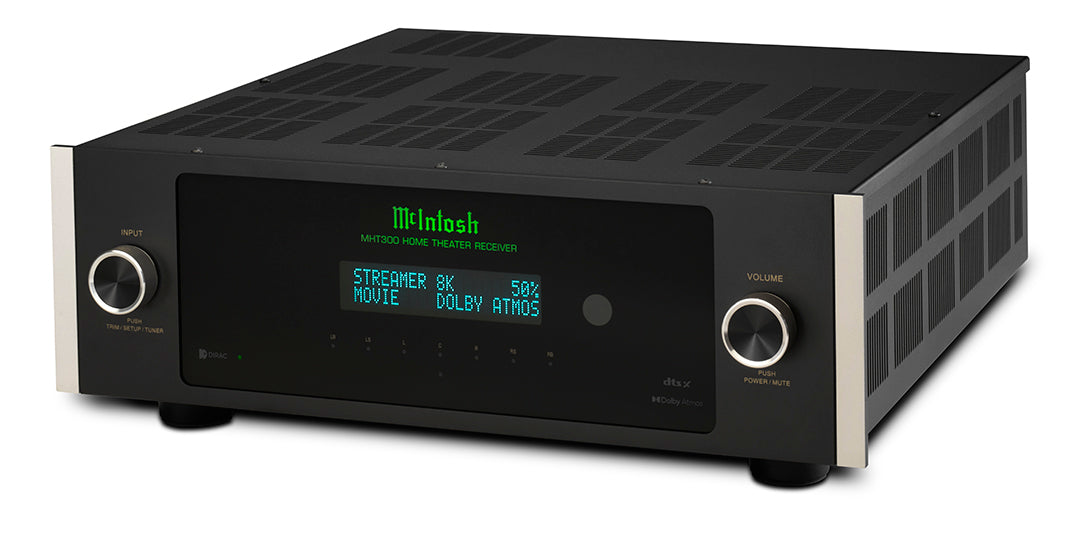 On Demo Now!
Contact for Price!
The McIntosh MHT300 Home Theatre Receiver (or AV Receiver or AVR) is an uncompromising 7.2 (or 5.2.2) channel home theater powerhouse sure to heighten your emotional connection to what you are watching. With support for breathtaking 8K/60Hz and 4K/120Hz video and leading home theater surround sound audio formats Dolby® Atmos and DTS:X™, plus delivering 120 – 150 Watts of legendary McIntosh power.
With the MHT300, the power ratings are for all seven channels being driven. That means every 4 Ohm speaker will receive 150 Watts and every 8 Ohm speaker will receive 120 Watts of heart pounding McIntosh power to bring all your favorite movies and video content to life. Every explosion, every car chase, every high-speed flyby, every roar of the crowd after a game winning score will be faithfully reproduced by 120 – 150 Watts on every one of your speakers. With the MHT300, you'll no longer have to wonder if each speaker is getting the full power listed on the box.
If someday your home cinema expands beyond seven channels, additional external amplifiers can be connected to the MHT300 to power them via the Height 1 and Height 2 audio outputs. An external amplifier, such as the McIntosh MI254 4-Channel Amplifier, would be connected to these outputs to drive these additional speakers. This would effectively turn the MHT300 into a 7.2.4 channel AVR.
Advanced room adjustment and correction is provided via Dirac Live® Room Correction. Dirac Live is an advanced room acoustic solution that enables users to optimize their sound systems and reduce unwanted effects introduced by the room. Utilizing purpose-built audio algorithms, Dirac Live provides world-class room correction with time domain correction by means of patented mixed-phase filter technology – something that all other solutions are missing. Dirac Live is nevertheless easy to use, with an intuitive user interface and step-by-step guidance that allows for quick setup and robust personalization.
The MHT300 has 4 HDMI inputs and 1 HDMI output. Each HDMI port is HDCP 2.2 compliant and support 8K/60Hz & 4K/120Hz. All ports have 18Gbps of bandwidth and are compatible with High Dynamic Range (HDR) formats Dolby Vision™, HDR10 and HLG; 4:4:4 color spacing; Rec. 2020; and 3D video pass-through.
The HDMI output features enhanced Audio Return Channel (eARC) functionality. Audio Return Channel allows a compatible TV to send audio data to the audio video processor over the HDMI cable, eliminating the need for separate audio cables. eARC offers improved bandwidth so higher resolution audio formats such as DTS-HD Master Audio™, DTS:X®, Dolby TrueHD, and Dolby Atmos can be sent through the HDMI cable, allowing the MHT300 to deliver the best possible sound quality.2 Two coax and 2 optical digital audio inputs are included to connect additional audio devices, while 2 subwoofer outputs will let you have as much bone rattling bass as you want in your theatre.
Setup and configuration are easily performed via computer interface. To save time, your installer can pre-configure your unit before bringing it to your home and then simply load the configuration file at installation. Similarly, you or your integrator could backup your configuration file onto a computer or USB stick for safe keeping; then you could even experiment with different configurations to listen for better performance safe in the knowledge that you could reinstall the original setup. The MHT300 can be operated via the included remote control, or your integrator can easily incorporate it into your home automation system via RS232 control protocol.
Power Guard® signal overload technology that prevents overdriving and damaging your speakers
Sentry Monitor™ short-circuit protection circuit that disengages the output stage should current ever approach unsafe operating levels and then resets automatically when operating conditions return to normal
Power Control to automatically turn other connected McIntosh components on and off
Eco-friendly on/off signal sensing that turns the unit off if no input signal has been detected for a set amount of time and – perhaps more conveniently – automatically turns the MHT300 on when it senses a signal from your home theater
An FM Tuner for enjoying free over-the-air radio broadcasts

The MHT300 AVR includes many McIntosh design cues including a black glass front panel, an illuminated McIntosh logo, rotary control knobs, and a familiar form factor highlighted by silver trim.
Please contact us for price.