Rega Moving Coil Cartridges
Rega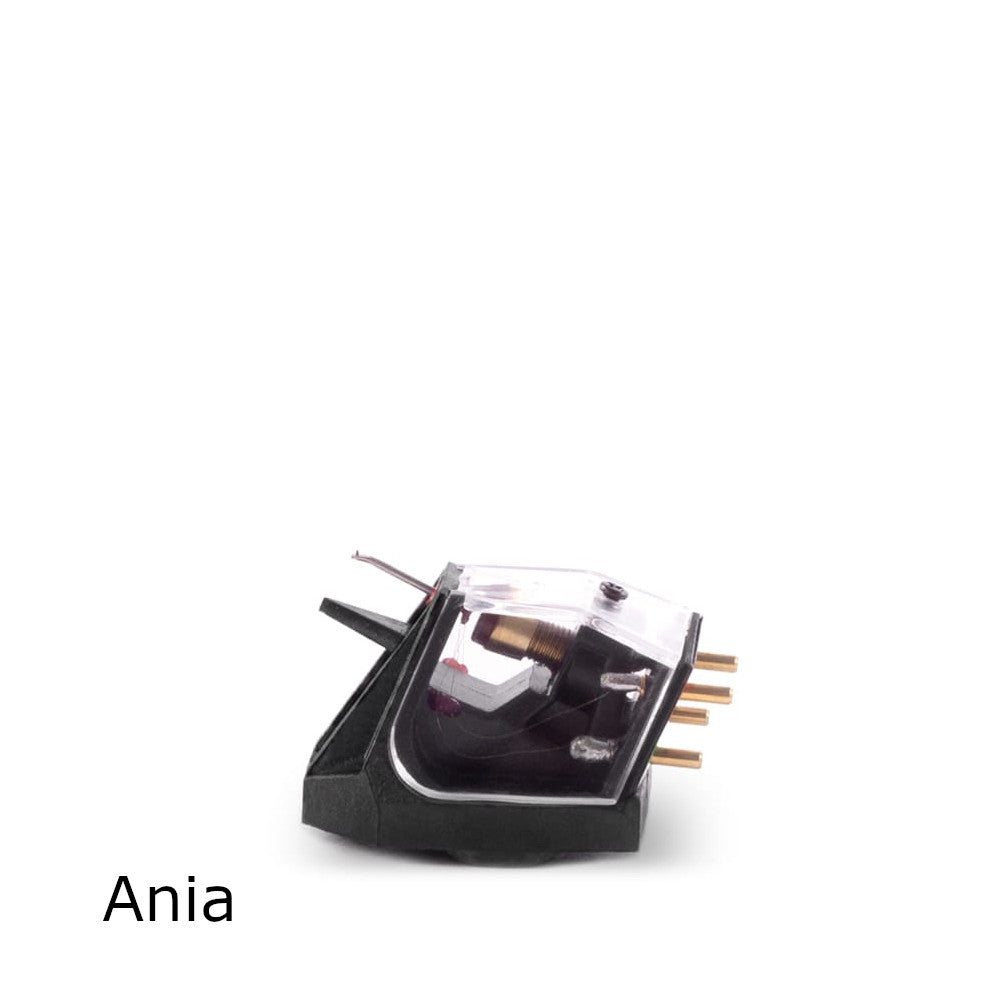 The Rega Moving Coil Cartridges offer exceptional accuracy with its three-point fixing design. When connected to the tonearm headshell, the system optimizes connection and sets overhang specifically for Rega tonearms. Enjoy improved sound quality with this reliable design.
Ania
Experience the highest fidelity vinyl reproduction with Rega's Ania Moving Coil Cartridge. Its unique PPS body, neodymium magnet, and hand-wound micro-coil deliver amazing detail tracking for incredible sound quality. A CAD-designed, clear rigid cover provides extra protection to the cartridge's delicate internal wiring for safe handling. Enjoy your vinyl record collection like never before with Rega Ania.
Ania Pro
The Rega Moving Coil Cartridges Ania Pro is designed to accurately reproduce sound from a vinyl record, with a Vital profile nude diamond stylus for maximum detail. Delivering tight bass, warm mid-range, and accurate top end frequencies, the Ania Pro offers a balanced and detailed performance.
Apheta 3
The Rega Moving Coil Cartridges make music sound its best. The Apheta 3 cartridge advances the sound potential with its "Fine Line" diamond profile design, mounted through 90 degrees for maximum detail extraction. Get a richer, more detailed musical experience with the Apheta 3.
Aphelion 2
The Rega Moving Coil Cartridges Aphelion 2 offers audiophiles an advanced 4th generation design. Handcrafted with the latest Apheta 3 technology, this cartridge provides superior clarity and musicality. Enjoy a precise, distortion-free listening experience with the Aphelion 2.
Ania
Ania Pro
Apheta 3
Aphelion 2
Tracking Pressure 
1.75g - 2g
1.75g - 2g
1.9g - 2g
1.9g
Input Load Impedance
100 Ohms
100 Ohms
100 Ohms
100 Ohms
Output Impedance
10 Ohms
10 Ohms
10 Ohms
10 Ohms
Nominal Output Voltage
350 

μV

350 

μV

350 

 

μV

350 

 

 

μV

Channel Balance

≥ 20 μV

≥ 20 μV

≥ 20 μV

≥ 10 μV

Seperation

≥ -29 dB

≥ -29 dB

≥ -29 dB

≥ -29 dB

Mass

NA

6g

6g
6g
Impedance
100 Ohms
100 Ohms
100 Ohms
100 Ohms
Capacitance
1000 pF
1000 pF
1000 pF
1000 pF
Gain Setting
High ("On" Position for Rega phono stages

High ("On" Position for Rega phono stages

High ("On" Position for Rega phono stages

High ("On" Position for Rega phono stages

Price includes shipping to most areas of Canada