Yamaha A-S501 Integrated Amplifier
Yamaha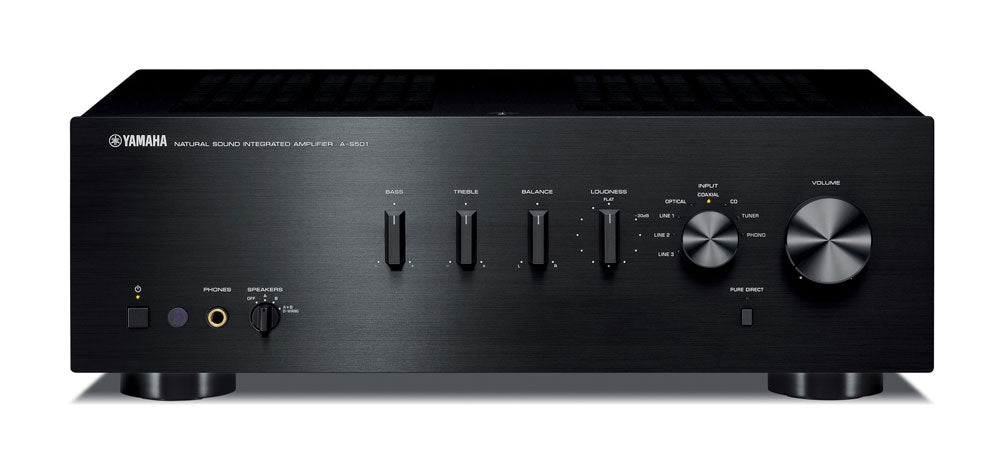 On Demo Now!
Experience superior sound quality with the Yamaha A-S501 Integrated Amplifier. Featuring a wide variety of features and a sleek, modern design, this integrated amplifier will take your home audio system to the next level. Digital input allows for even more enhanced sound quality, making the Yamaha AS501 the perfect choice for your home entertainment.
Price includes shipping to most areas of Canada
High sound quality circuit design based on the ToP-ART (Total Purity Audio Reproduction Technology) concept
ToP-ART Design and ART Base Ensure Optimum Sound When processing and transmission of the audio signal is simple and direct there is less chance of it being affected by noise and distortion. Yamaha's amplifier design technology called ToP-ART features an I/O (input to output) Direct Symmetrical Design, with left and right channels organised in a straight, symmetrical layout for highest signal purity. In addition, the ART (Anti-Resonance and Tough) Base bottom chassis and a solid centre bar provide high-rigidity support and vibration damping. These Yamaha design innovations contribute to this amplifiers' rich audio reproduction with abundant musicality.
Features

ToP-ART and high quality parts
I/O Direct Symmetrical Design
ART Base
Custom-made Power Transformer
12000uF block capacitors

Output Power
85W
Damping Factor
240
Frequency Response
10Hz - 100kHz (+/- 1.0dB)
THD
0.019% (85W into 8 Ohms)
Signal to Noise Ratio
99dB
Inputs

5x Unbalanced (RCA)
1x Phono (RCA)
1x Coax (RCA)
1x Optical (Toslink)

Outputs

2x Unbalanced Record Out (RCA)
1x Subwoofer (RCA)

Pure Direct
Yes